Product Description
Soft Refrigerator Flexible Adhesive Rubber Magnetic Strips,Adhesive magnet:
flexible rubber magnets are made of ferrite magnet powder, compound rubber and other materials. By extruding, rolling or injecting, the combination can be made into soft, plastic and flexible magnets with different shapes which are depend on the request of clients.
Type for flexible rubber magnets:
Isotropic material: weak magnetism, used on iceboxes, presswork and marketing and promotion premiums
Anisotropic material: strong magnetism, used in such applications as micro-motors and magnet toys.
Product Information :




Description:
Flexible Rubber Magnetic Soft Sheet Strip With Adhesive
Material:
Made of ferrite powder,synthetic rubber ,plastic and other materials .
Product Name:
Flexible Rubber Magnet, Printable Magnet, Rubber Magnet, Magnetic Sheet, Magnetic Strip, Soft Magnet, Fridge Magnet.

Working Temperature:
Grade
Temperature
ISOTROPIC RUBBER MAGNET
YN-5T
80ºC
YN-8
80ºC
ANISOTROPIC RUBBER MAGNET
YN-10
80ºC
YN-11
80ºC
YN-13
80ºC
YN-15
80ºC
Magnet Shapes and Sizes:
Rolls,sheets,strips,bloclks,rings,with max.Width 900mm,thickness from 0.20mm-10mm,length can be as long as what customers require,steady pole
Surface Treatment
Laminated with pvc sheet of different colors ,self-adhesive tape ,coated with UV
Color Imprinted & Die-cut
Laminated with pvc sheet ,color imprinted with any disigns and logos ,die cut into any shape .
Features:

Good flexibility and precise dimension

Production Method :extruding ,calendaring,injecting and molding

Applications:
Promotion gifts ,advertising ,magnetic button ,door and window fixers ,seal strips ,magnetic stationery and micro-motoes etc .
Grade
Br
HcB
Hcj
(BH)max
KGs
Ka/m
Ka/m
Kj/m³

YN-5T

140-155
90-120
130
4.0-5.6
(1400-1550)
(1125-1500)
-1625
(0.5-0.7)

YN-8

160-185
120-140
150
5.6-7.0
(1600-1850)
(1500-1750)
-1875
(0.7-0.89)

YN-10

200-210
145
160
8.0-9.6
(2000-2100)
-1812
-2000
(1.0-1.2)

YN-11

230-245
160
175
10.0-11.0
(2300-2450)
-2000
-2188
(1.25-1.39)

YN-13

>=250
160
182
11.2-12.6
(>=2500)
-2000
-2275
(1.40-1.51)

YN-15

260
172
196
12-12.8
-26000
-2150
-2450
(1.5-1.6)

YN-11H

230-240
170
188
10.0-11.0
(2300-2400)
-2125
-2500
(1.25-1.34)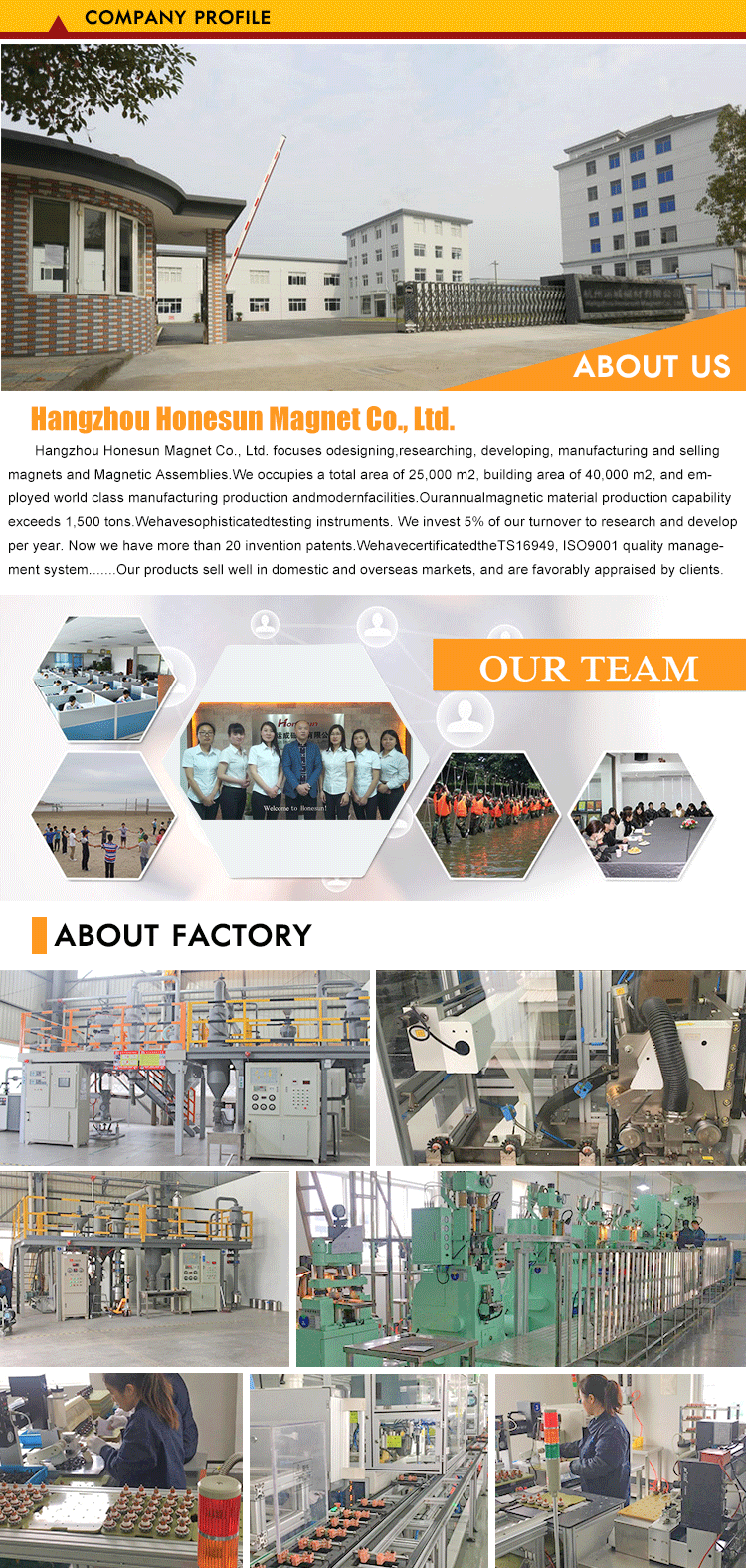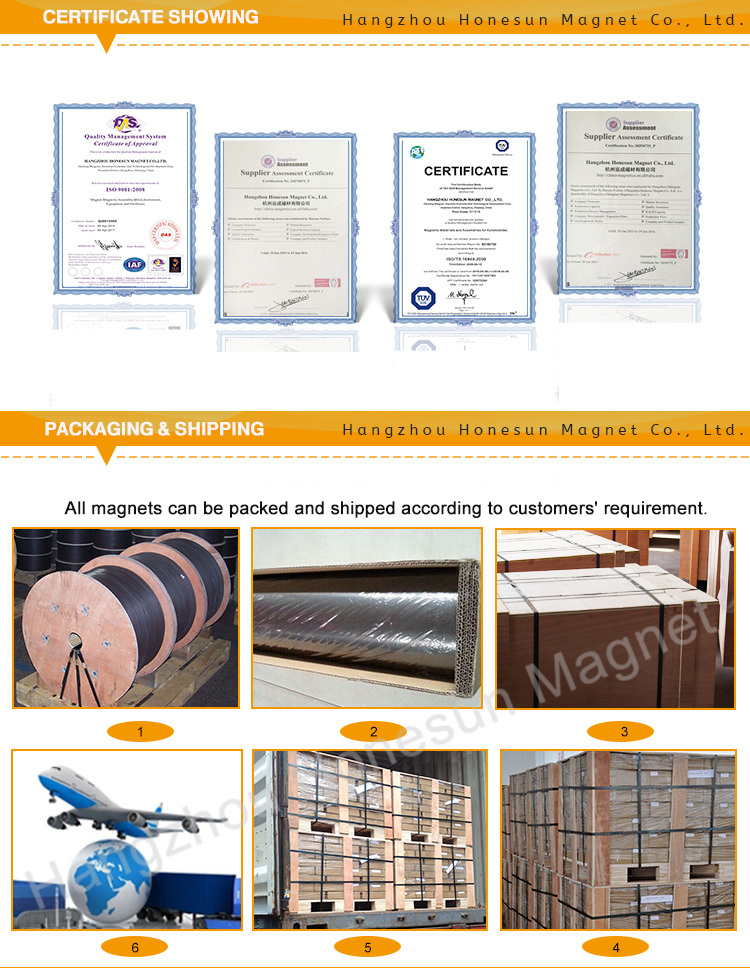 1.How fast can I get a reply?
You will receive our reply within 15 minutes during our work time 08:00-18:00(UTC-8).
2.Can I get free samples?
Free samples are available at warehouse. However it may take minimum 7 days for production if your size is not on our stock list.
3.Are you able to offer best price?
Magnets are functional products,the cost depend on how strong the materials you need. We believe the most suitable is the best, therefore HONESUN keen to offer best prices to meet your targets.
4.Are you able to provide best quality?
At our company you receive products under guarantee of ISO9001systems.
5.What are your best lead time?
Immediately shipments are available for stock magnets. For fresh materials,we need 7-15 days for production.
6.How can you sure that my money is safe with you?
As an Alibaba Trade Assurance member, your funds are under protection of Alibaba group. Payments will not be released to vendor until buyer confirms receipt and good material of delivery.